UNIDEK®

UNIDEK® is a modern ribbed profile which has high strength, light weight and long spanning capabilities. It is manufactured via continuous processes of cold forming High-Tensile Zincalume® steel or Clean Colorbond® steel therefore can be supplied in any length limited only by transportation and handling.
Features:
Flexible and commonly roofing profile.
Wide cover width, economical profile.
Readily available in various locations.
note: all measurements are nominal only and are dependent on thickness and tensile strength of material used.
Schematic

Specification
Effective width: 762mm
Ribs height: 25mm
Sprung curve: Minimum radius 22m.
Maximum length: 12m. (Ex-factory)
Site forming: Available
Tolerence:
Length:  +/-     10mm
Cover width: +/-     4mm
How to specify UGI Steel Roofing System:
0.48mm TCT UGI UNIDEK Clean COLORBOND with AZ150 G550 metal roofing with all necessary fixing accessories.
1 layer UGI double sided sisalation aluminium foil.
1 layer Thermalrock B40 – 50mm thickness @ 40 kg/m³.
1 layer of UGI GI roof mesh.
Physical Properties
TCT
Total Coated Thickness

ZINCALUME®
Clean COLORBOND®
Kg/m
Kg/m2
m2/t
Kg/m
Kg/m2
m2/t
0.41mm
2.73
3.58
279
2.80
3.68
272
0.48mm
3.28
4.30
232
3.34
4.39
228
Capacity and Load Table
Span Between Support(mm)
0.35mmBMT (0.41mmTCT)
0.42mmBMT (0.48mmTCT)
Loading
(kgf/m2)
Deflection
(mm)
Loading
(kgf/m2)
Deflection
(mm)
500
700
0.6
–
–
700
390
1.3
–
–
850
260
1.8
500
2.8
1,000
190
2.6
380
4.1
1,150
145
3.4
280
5.3
1,300
110
4.2
220
6.8
1,450
90
5.5
180
8.6
1,600
75
6.6
140
10.0
Spanning Table
0.35mmBMT (0.41mmTCT)
0.42mmBMT (0.48mmTCT)
Single
End
Internal
Single
End
Internal
Roof
800
900
1,200
940
1,040
1,500
Walling
1,200
1,300
1,500
1,600
1,800
2,000
Materials
ZINCALUME® steel, AZ150 G550
ZINCALUME® steel is a high-tensile G550 steel with a minimum yield strength of 550Mpa and a metallic coating with composition of 43.5% zinc, 55% aluminium & 1.5% silicon (AZ150) which conforms to Australian Standard AS1397 and Malaysian Standard MS1196. The practical and aesthetic merits of ZINCALUME® steel include durability, longer lasting life, formability and excellent corrosion resistance. Thus ZINCALUME® steel is able to last up to 4 times longer than galvanized steel (GI) and pre-painted galvanized steel (PPGI). ZINCALUME® steel supplied by BlueScope Steel (Malaysia) Sdn Bhd has a clear resin coating which gives it a beautiful, satin-smooth finish.
Clean COLORBOND® steel, AZ150 G550
Clean COLORBOND® is the pre-painted ZINCALUME® steel with the ability to prevent tropical dirt staining and better colour retention. Clean COLORBOND® paint system is oven cured with nominal gloss of 25% which conforms to Australian Standard AS2728 Category 3. It is certified to BOMBA Class 'O' (AS1530) with heat resistance up to 100° C.
Other Materials
Other materials are also available upon request;
Clean COLORBOND® ULTRA AZ200 G550 steel.
Clean COLORBOND® XPD Pearlescent AZ150 G550 steel.
PrimaMaju AZ100 G550 steel.
Quality Control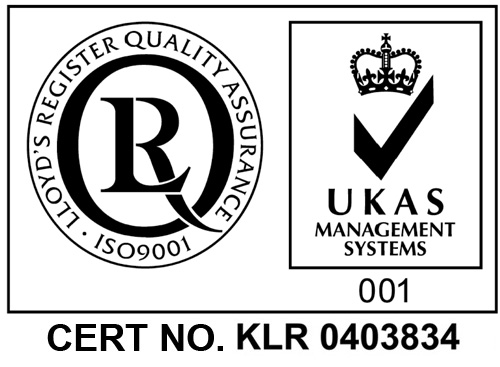 With the certification of MS/ISO 9001: 2008 Quality Management System, UGI ensures high quality Clean Colorbond® and Zincalume® steel are precisely cold formed into UNIDEK® steel roofing sheet.
Colour Range
UGI roofing is readily available in popular Clean Colorbond® colours. Colour matching of UGI roofing is possible upon meeting a minimum order quantity.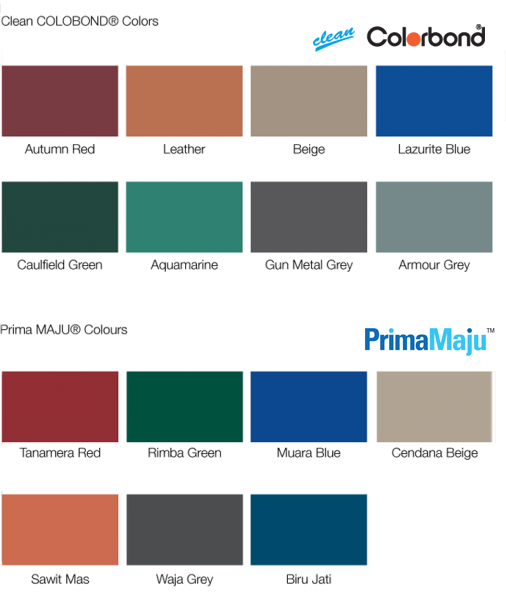 Other colour available upon request.
Warranty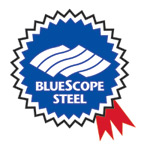 UGI roofing has a back to back material performance warranty from BlueScope Steel (Malaysia) Sdn. Bhd. of up to 25 years upon meeting all the requirements. The warranty for Clean Colorbond steel if correctly installed and maintained, includes:
Shall not perforate by corrosion up to 25 years*.
Shall not peel or flake excessively up to 15 years*.
Shall not colour fade excessively up to 10 years*.
Shall not discolour by dirt staining up to 5 years*.
* Terms and condition applies.
Type of Crimp Curved

Sprung/Crimp Curved
UNIDEK® roofing can be natural sprung or machine crimp curved to various shapes and sizes as shown in the diagram above. For more information on minimum radius and maximum length of UNIDEK® natural or crimp curved, please refer to the table.
Side Lapping
The correct side lapping of UNIDEK® sheets should have the male rib (rib with anti-capillary groove) covered by the female rib as shown in the diagram below.
Note: For more information on installation of UNIDEK® and accessories, please refer to UGI steel roofing installation manual.

Sprung/Crimped Curve Specification
Criteria
Crimp Curve
Minimum radius
550mm
Maximum arc length
8,000mm
Sprung Curve
Minimum radius
22,000mm
Maximum length
12,000mm
Thermal/Noise Insulation
UNDEK® steel roofing is best installed with proper thermal and noise insulation. A common method is to lay a layer of wire netting over battens, then a layer of double sided aluminium foil, followed by Thermalrock B40-50mm thickness @ 40kg/m3.
Fastening Details
To match the performance of UNIDEK®, the fastener must conform to AS3566 Class 3. For more details refer to Fastener page.
Warnings
UNIDEK® can be used on roof pitches as low as 3° (without end-laps). Consult our Technical Department for roof with end laps or longer length roof.
Copper and Lead are incompatible materials and should NOT be used in contact with UNIDEK® made from Clean Colorbond® Steel.
Use only acetic-free sealant on UNIDEK® sheets.
Manual cutting is recommended. Avoid circular saw cut that result in having hot particles falling onto UNIDEK® sheets.
While walking on UNIDEK® roof, evenly distribute weight to avoid concentrating weight on either heels or toes. Use smooth soft soled shoes.
Accessories
UNILINE® Rain Gutters, Ridge Capping, Valley Gutter, Wall Flashing are available to match UNIDEK® Roofing.